本帖最后由 郭国汀 于 6/17/2019 14:34 编辑
Hong Kong: pressure builds on Carrie Lam as public rejects apology
Calls for leader to stand down after estimated 2 million march over unpopular extradition bill
Mon 17 Jun 2019 18.44 BSTFirst published on Mon 17 Jun 2019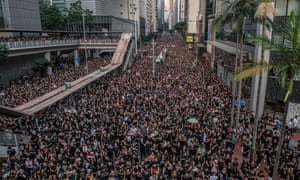 Protesters demonstrate against the now-suspended extradition bill on 16 June in Hong Kong. Photograph: Carl Court/Getty Images

Protesters have kept up pressure on Hong Kong's leader by blocking streets outside the shuttered legislature building and welcoming the city's most prominent political activist,

Joshua Wong

, on his release from jail.

As the political crisis entered its second week, Hong Kong's police chief admitted that his officers had sought to arrest wounded demonstrators in hospitals after a previous protest, but claimed criminal screening was routine for anyone arriving at A&E.

He said 32 people had been arrested for their role in protests last week, and five charged with rioting offences, which carry heavy sentences.

The city was electrified by a record march on Sunday, the third major demonstration in a week. Organisers claimed that nearly 2 million people turned out to oppose an extradition law pushed by the territory's chief executive,

Carrie Lam

, called for her resignation, condemned police brutality against protesters and demanded they drop any rioting charges.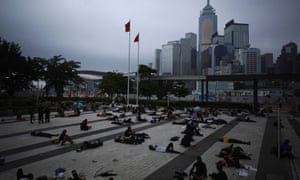 Protesters against the proposed extradition bill rest near the legislative council building in the early morning. Photograph: Athit Perawongmetha/Reuters

The police commissioner, Stephen Lo Wai-Chung,

refused to apologise for

police use of tear gas

, rubber bullets and truncheons, saying their hand was forced when "a minority" turned to violence on Wednesday. He claimed police had been misunderstood.

"We're not saying that the public gathering on that day was a riot," Lo told a press conference. "Some protesters used violence, that's why the situation was a riot. As for other peaceful protesters … they need not worry about the riot crime."




Asked about reports that police used medical records to search hospitals for protesters, he said every hospital had a police post, and officers had followed routine procedures.

"Whenever there are people delivered to the emergency ward, there is a responsibility for police to check whether it is an accident, natural sickness, or [if they were] involved in certain crimes," he said.



'President Xi, we will not keep silent': Hong Kong activist Joshua Wong released from jail – video

"The allegation that we are going to hospitals, chasing people to disturb their treatment, I disagree. It is only that our police stations discover [this], like normal crimes, like the triad wounding case or a murder case."

The response was unlikely to satisfy protesters who marched under slogans including "

they are kids, not rioters

" and have been emboldened by the government's unexpected climbdown over the extradition bill.

The crowds on Monday were tiny by comparison to Sunday, but participants remained committed. "This is Hong Kong's future at stake, it's really important," said one 29-year-old protester, who had skipped work to attend. He said his boss knew where he was, but asked not to be named because he feared arrest after roundups including hospital detentions.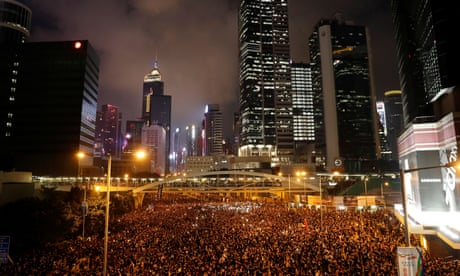 'They're kids, not rioters': new generation of protesters bring Hong Kong to standstill



The timing of Wong's release on Monday after serving half of a two-month sentence on a contempt charge was coincidental. He rose to prominence during the 2014 pro-democracy "

umbrella movement

", and had been finishing a sentence for his role in those protests when Hong Kongers took to the streets again.

He wasted no time adding his name to the cause. When he arrived at the protest site in the early afternoon, he told reporters he was in the same clothes he wore when he was jailed, not even taking time to return home and wash or change.




"[The protests] showed the spirit and dignity of the

Hong Kong

people," Wong said. He urged her to withdraw the controversial law and step down.

Sunday was the largest demonstration in Hong Kong's history and the potent display of public anger pushed Lam to apologise for her handling of the crisis in a statement, but she did not respond to demonstrators' key demands.



Hundreds of thousands take to streets in renewed Hong Kong protests – video report

Many have sworn they will not rest until she goes. "I know this is going to be a serious fight, but I think it is somehow necessary," said a 22-year-old student who gave his name as Draven.

"We all know that just one protest is not going to have any long-term impact; we have to go further to let the government know what we need." That includes bringing an end to Lam's leadership, he said.

Hong Kong is not China yet, but that feared day is coming ever nearer Louisa Lim



China

, which handpicked Lam for the job, has stood by her publicly. The foreign ministry spokesman Lu Kang said on Monday she had the government's support. But analysts and opposition politicians said her campaign to force through a much-criticised bill, and her repeated misreading of the public mood as Hong Kong's people rose up against it, had fatally undermined her authority.

"Her government cannot be an effective government, and will have much, much, much difficulties to carry on," the Democratic party legislator James To told the government-funded broadcaster RTHK.

The extradition law at the heart of the crisis would allow both residents and visitors to be sent to China for trial in opaque, communist-controlled courts, which many in Hong Kong fear would prove a devastating blow to their economy and society.

The city functions as a regional business and trade hub, protected from China by its judicial "firewall". Without that protection everyone from dissidents to business tycoons could be at risk; some of the city's wealthy have reportedly already started moving assets abroad over fears about the new law's impact.

Additional reporting by Verna Yu