本帖最后由 郭国汀 于 6/21/2019 01:14 编辑
Hong Kong: thousands gather for fresh protest against extradition bill
Demonstrators blocks key road and mass outside police headquarters in fourth protest in two weeks
Fri 21 Jun 2019 04.26 BSTLast modified on Fri 21 Jun 2019

Protesters gather outside the Legislative Council in Hong Kong Photograph: Kin Cheung/AP

Protestors in

Hong Kong

have blocked a key road through the city centre and massed outside police headquarters to demand the total withdrawal of a controversial extradition law, the release of detained activists and apologies for police brutality.

The protest on Friday is the fourth major demonstration in the city in less than two weeks.

Hong Kong has been electrified by the protests, which were initially called to oppose the bill. However, after police used tear gas, rubber bullets and pepper spray against protestors last week, organisers' demands have expanded to include an investigation into the violence and an end to a government crackdown on demonstrators.

The scale of public anger forced chief executive Carrie Lam to publicly apologise and suspend the law she had previously promised to ram through the island's legislature. But opposition figures fear she could take up the law again once public anger is defused.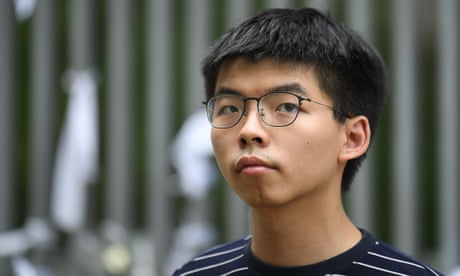 Carrie Lam's failures have radicalised new generation, says freed activist[/url]
"Peaceful protests have been useless so far, we have exhausted normal channels," said one man. "That's why we are stepping up our actions." Like many at the protest he wore a face mask and asked not to be identified, because of concerns about official retaliation.
Police have rounded up demonstrators, arrested injured protestors in hospital and said at least five of those detained would face charges of rioting, which carry heavy sentences.
At Friday's protest several hundred people headed to police headquarters, to press their demands for accountability, after blocking the major Harcourt Road highway through the centre of the city.
Joshua Wong, one of Hong Kong's most prominent activists, was at the head of the group outside the police station. He was released from jail on Monday, after serving time for his role in the umbrella movement nearly five years ago, but immediately pledged to join the fight against the extradition law.
Wong led calls for police commissioner Stephen Lo to come out and speak to demonstrators. Others outside the building joined in the hymn which has become a protest anthem, "Sing Hallelujah to the Lord".
Alexandra Wong, 63, – who is not related to Joshua Wong – was waving a large Union Jack flag, a tribute to the British colonial era before the city was handed back to China's rule, and implicit attack on Beijing.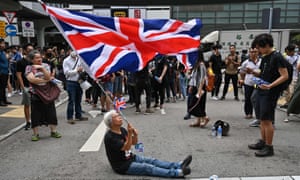 A woman waves a British Union Jack flag during a protest near the government headquarters in Hong Kong Photograph: Héctor Retamal/AFP/Getty Images

"I am here to protest against police violence," she said, adding that she was ready to get arrested. "We don't want the police to hurt people, arrest people and to use pepper spray on us. This is sheer injustice."




Without a police permit to hold a demonstration, organisers had urged people to turn up early outside government offices to "picnic, sing, stroll, watch the turtles and keep off the rain", all barely veiled calls to political action.

Temporary first aid posts well stocked with everything from asthma medication and saline solution to adrenaline and supplies for dealing with major wounds dotted the pavements, mostly staffed by nursing and medical students.

"We got here around 7.15 am. Because of the situation last time we wanted to be set up early," said 22 year-old Matthew, who had taken a morning volunteer shift before heading into work.

However widespread public outrage over that police violence helped spur a

record two million people

– over a quarter of the city's population – onto the streets for an entirely peaceful protest on Sunday.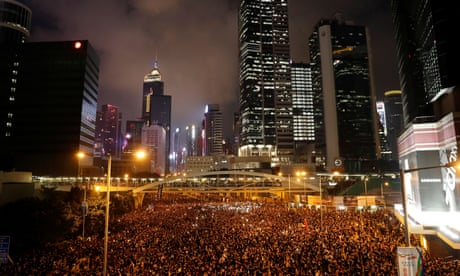 'They're kids, not rioters': new generation of protesters bring Hong Kong to standstill
In response, authorities appeared to have taken a softer approach to crowd control. The legislature was closed for the day, to diminish the prospect of confrontation, and there was only a small police presence in the surrounding area.
Opposition leaders at the protest called on the crowds to stay calm. "Look after those around you. If the police don't use their batons, then we don't take action, Ok?" said lawmaker and novelist Roy Kwong Chen-yu
The extradition law that originally sparked the protest would have allowed authorities to send both visitors and residents for trial in China's communist controlled courts. Critics fear that would fatally damage the country's economy and undermine free speech and religion.
As turmoil over the law spread in Hong Kong, tycoons started moving assets out of the city and backed away from major business deals,
the New York Times reported
, although few spoke out publicly until the protest movement took off.
"I originally didn't support this," said a 70 year-old man watching Friday's protests unfold. He gave his name as Kava. "But peaceful protests are not working so there is nothing else that the people can do."